Mothers rooms are lactation spaces provided for nursing mothers that are free from intrusion and include an electrical outlet.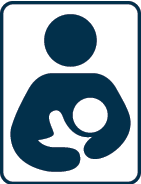 Los Angeles 
The Edward R. Roybal Federal Building and U.S. Courthouse has two Mothers Rooms.
The first is located on the 13th Floor in Suite 1347.  The room is equipped with a refrigerator, comfortable seating, and has restroom facilities.  Follow the signs to Suite 1352, the Mothers Room is in the adjacent hallway.  No reservations are necessary.  If unoccupied, the room is open at all times.  See map for location.
The second is located on the 7th Floor next to the Jury Assembly Room.  For access, please contact the U.S. District Court Space & Facilities at 213-894-1400.
Riverside
A Mothers Room is located at the U.S. District Court on the first floor near the Jury Assembly Room.  For access, check in at the U.S. District Court's intake window.
Santa Ana
Lactation Room 6082 is available on the 6th Floor west in the common corridor on a first come, first served basis. The room is available to all tenants and the general public for lactation breaks. The room has an occupancy door lock which indicates when the room is in use (green means available; red means do not disturb).
Santa Barbara (Northern Division)
The attorney conference room on the second floor (Room 203) is available as a Mothers Room. The room has a self-locking door and conference table seating. No reservations are necessary. If the room is occupied, please check in at the Intake window.
For information about Mothers Room accommodations please contact the Access Coordinator at 855-460-9641 or by E-mail at ADA_Coordinator@cacb.uscourts.gov.