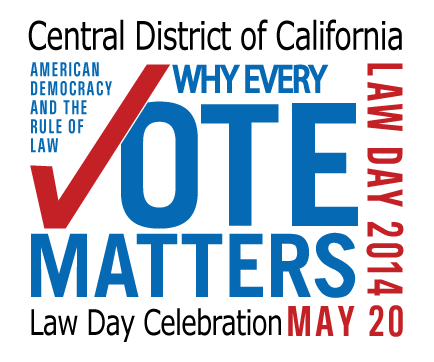 According to the American Bar Association:
One of our most cherished national ideals, expressed eloquently by Abraham Lincoln, is "government of the people, by the people, for the people."  It is a principle enshrined in our Nation's founding documents, from the Declaration of Independence's assurance that governments derive their powers from the consent of the governed, to the opening three words of the Preamble to the U.S. Constitution, "We the People."
The right to vote is the very foundation of government by the people.  For this reason, striving to establish and protect every citizen's right to vote has been a central theme of American legal and civic history.  Much of the struggle on voting rights began decades ago, but the work is far from complete, and a citizen's right to cast a ballot remains at risk today.  
As we approach the 50th anniversaries of the Civil Rights Act of 1964 and the Voting Rights Act of 1965, the 2014 Law Day theme, American Democracy and the Rule of Law: Why Every Vote Matters, calls on every American to reflect on the importance of a citizen's right to vote and the challenges we still face in ensuring that all Americans have the opportunity to participate in our democracy.
On May 20, 2014, the United States Bankruptcy Court for the Central District of California proudly hosted a Law Day Celebration for approximately 80 high school students from the Junior State of America, a non-profit, non-partisan organization for students who are interested in the law, politics, and government.  The Law Day Celebration is a collaborative effort among the following Central District of California agencies:
United States Bankruptcy Court
United States District Court
Federal Bureau of Prisons
Federal Protective Service
Office of the Federal Public Defender

United States Attorney's Office
United States Marshals Service
United States Pretrial Services
United States Probation Office
United States Trustee Program
During the Law Day Celebration, students participated in a mock trial, learned the importance of financial literacy, shared lunch with judges and lawyers to discuss the law and the legal profession, and learned about diverse career opportunities in the federal government during a jobs panel that included representatives from all of the participating agencies in the Central District.  
The Honorable Philip S. Gutierrez presided over one of two criminal texting while driving mock trials.  Below are links to the transcript and audio recording of the mock trial.
Real Time Transcript (uneditied version)