Attention Debtors:
  Request to receive your orders and court-generated notices by email!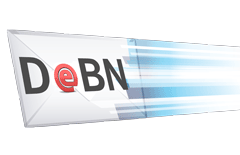 It's FAST: Receive your orders and court-generated notices the same day the court generates them, and the same day as your attorney.
It's FREE: No charge to enroll, or to view or save your emailed orders and court-generated notices.
It's CONVENIENT: Receive unlimited access to your orders and court-generated notices from your computer or mobile device equipped with an Internet connection and a free version of Adobe Acrobat Reader.
Only the court is authorized to send notices by email through the DeBN program.  Bankruptcy litigants, trustees, and creditors must continue to serve the debtor by U.S. mail or in person as required by court rules.
How to Request Electronic Noticing
File a Debtor's Request to Activate Electronic Noticing (DeBN) form at any divisional office (photo ID required). Or, your attorney can file it electronically for you. DeBN forms cannot be filed by mail at this time.
Click on the embedded hyperlink in the DeBN activation email you receive in your email inbox.  You must click on this link to activate your DeBN account.
Debtor Electronic Bankruptcy Noticing Forms & Information
To Request Electronic Noticing: Debtor's Request to Activate Electronic Noticing form
To Update DeBN Account:  Debtor's Request to Update Electronic Noticing form
To Deactivate Electronic Noticing:  Debtor's Request to Deactivate Electronic Noticing form